Gardena-StartSet Flower Pots automatic (Come with water control) The GARDENA Micro-Drip-System Starter Set Plant Pots M automatic is used for the care-free and water-saving irrigation of 7 plant pots and 3 planters on balconies and patios. The pressure-reducing Master Unit is connected to the tap with the aid of a hose. The plant pots are accurately and individually watered via the pipe system using Drip Heads. The patented "Quick & Easy" connection technology permits all parts to be easily and quickly plugged together and disconnected again. The system is automatically controlled via the GARDENA Water Computer. Equipment: 1x Water Computer EasyControl 1x Master Unit 1000 15 m Connecting Pipe 10 m Supply Pipe 1x T-Joint 13 mm (1/2") 10x Reducing T-Joint 15x Pipe Pegs 4.6 mm (3/16") 10x Pipe Pegs 13 mm (1/2") 7x Adjustable Endline Drip Head 9x 2 l Inline Drip Head 3x End Cap 4.6 mm (3/16") 2x End Cap 13 mm (1/2") 1x Cleaning Needle
---
Water-saving irrigation

With the Micro-Drip-System drip irrigation, the water quantity per plant can be exactly dosed, so that no water is wasted.
Easy installation

The patented "Quick & Easy" connection technology guarantees the easy set-up and conversion of the irrigation system as well as a permanently tight pipe connection.
Immediately ready to use

The complete Starter Set includes the main Micro-Drip-System components for easy watering of desired plants and can be flexibly extended with products from the Micro-Drip-System.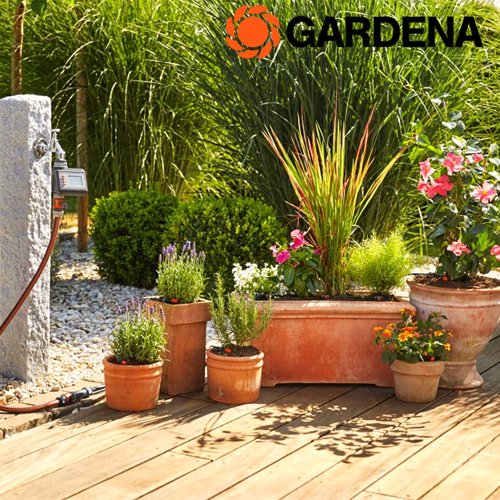 Gardena Classic Secateurs

The GARDENA Classic Secateurs have an extra-narrow, angled cutting head that allows precise cutting of vines and twigs.

The upper blade of the secateurs is non-stick coated and the bottom blade is made of stainless steel.

Precise cutting of vines and twigs Through the extra-narrow cutting head and the non-stick coated, precision-ground blades, the Classic Secateurs cut extremely precisely.

Ergonomic, comfort handles Through the ergonomically formed comfort handles, the secateurs lie comfortably in the hand.

The Comfort Secateurs cut a maximum branch diameter of 20 mm.